A rare SalmsonGS8, estimated at £150,000, is entered into the Charterhouse 5th October classic & vintage car auction at the Haynes International Motor Museum.
"It is a truly beautiful car which looks fast standing still." Commented Richard Bromell. "Representing state of the art Grand Prix engineering the GS8 was fast, reliable and arguably the most successful French light car of its day, winning in the region of 500 events in the late 1920s /early 1930s and certainly a match for competitors like Bugatti and Amilcar."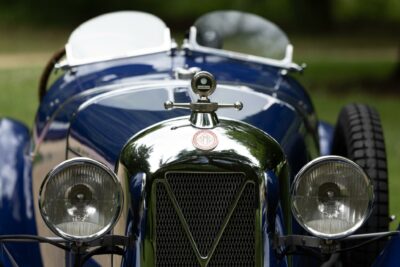 The car was dispatched to Switzerland in 1930 and remained there until purchased by the owner in 2019. One of 128 manufactured 1928 to 1930, just 27 cars exist today.
The chassis and body restoration were completed in Switzerland before arriving in its new Leicestershire garage. When the car arrived it was given to Salmson specialist Mickey Hudson who completed a ground up mechanical restoration of the engine, gearbox, clutch and rear axle .
The engine was fitted with a new crankshaft, con rods, pistons, camshaft, bevel gears etc .Invoices totalling over £30,000 are supplied detailing the cost of parts and labour for this are on file with the car.
Eligible for many prestigious event, including the important Mille Miglia, the car will also be a centrepiece for any car collection.
Charterhouse are now accepting further entries for this classic & vintage car auction, and for their specialist auctions of classic motorcycles, enamel signs and automobilia.
Richard Bromell and the Charterhouse Team can be contacted for valuations at The Long Street Salerooms, Sherborne, 01935 812277 or rb@charterhouse-auction.com
1929 Salmson GS8 'Grand Prix' sports estimated at £150,000