Slide 1
Classic & Vintage Car Auction
Slide 1
Selling With Charterhouse
NEWS & UPDATES
Another very successful auction at Charterhouse saw our usual large audience, as well as the hundreds bidding on line, with some impressive totals. We will be returning in the new…
A 1967 Land Rover ambulance, affectionately known as Annie, is in the Charterhouse auction of classic cars on 5th October at the Haynes Museum. "Annie is one of five Land…
FEATURED LOTS
Richard Bromell is the head of our Classic Car Department.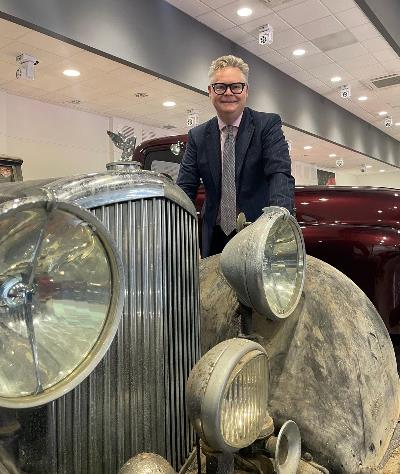 Richard is the head of our Classic Car Department. He organises these immensely popular and successful sales. Top price so far is £150,000 for a 1966 Aston Martin DB6 Vantage. Please contact Richard at the salerooms if you would like more information on including items in one of our vehicle auctions on 01935 812277 or email us at cars@charterhouse-auction.com or rb@charterhouse-auction.com
Charterhouse hold regular Classic & Vintage Car auctions. For the last 20 years our auctions have been online and in person (unless prevented by the pesky pandemic). You are welcome to come and view each auction at the beautiful Haynes International Motor Museum. You can find all our vehicle lots on car and classic.co.uk.
PREVIOUS SUCCESS
Please get in touch regarding buying, selling or valuations